Call for price
Standard accessories included with each LW75 Thermal Weapon Sight: Remote Control, Lens Caps, Operator's Manual, Carry Pouch, Coupling Light Shroud and Cables for Video Output and External Power Supply.
Email to a friend
Description
The Brolis Photonics Solutions LW75 is an uncooled thermal clip-on weapon sight. The LW75 can be used for both day and night applications, and is visible through dust, smoke, haze, and fog.
The LW75 is designed to interface with dayscopes, but can be used as a portable reconnaissance system. This system has the ability to record videos with optional Digital Video Recorder with a video-out capability. The LW75 is easy to use, accepts standard AA batteries and is built of full metal aircraft grade aluminum and protected by a superior wear and corrosion resistant, chemically stable ceramic coating. The LW75 is available in five custom colors: Flat Dark Earth, OD Green, Cobalt, White and Graphite Black.
| | | |
| --- | --- | --- |
| PART NUMBER | DESCRIPTION | PRICE |
| LW75-LWIR | Brolis LW75 LWIR Thermal Weapon Sight | Call for Pricing |
| | |
| --- | --- |
| NSN | 5855-47-000-8763 |
| Sensor | 640x480 17? Microbolometer |
| Spectral Range | 8-12 ?m (LWIR) |
| Field of View | 8.30° (H) X 6.23° (V) |
| Focal length | 75mm |
| Focus | Manual |
| F-Number | 1.2 |
| Sensor sensitivity | <35mK @ F/1.0 |
| Digital Zoom | 1x, 2x, 4x |
| Magnification | Unity |
| Human target detection / recognition | 2.5 / 0.7 km |
| NATO target detection / recognition | 3.3 / 1 km |
| Battery Type | AA batteries 3 |
| Battery Life | >4 Hours |
| IP Rating | Manufactured to IP68 |
| Operating temperature | -40°C to +50°C |
| Storage Temperature | 40°C to +72°C |
| Dimensions | 196 L x 75 W x 94 H mm |
| Mounting system | Picatinny Rail (MIL-STD-1913) |
| Weight | 800 G (28.2 oz) |
| Connectors | CVBS Analog Video Out Remote Control Pad. |
| Warranty | 1 Year |
All orders must be accompanied with our End User Statement which can be requested through sales@nvdevices.com, contacting us at 610-395-9743, or downloaded here. Once completed the form can be emailed to sales@nvdevices.com or faxed to 610-395-9744. The 1-2 business days of processing time will begin after receipt of this completed statement.
To help prevent fraudulent orders we ask that you provide a copy of your Driver's License, or other identifying documents, along with a signed copy of the End User Statement. If the requested information is not provided within 3 business days then the order will be cancelled. We appreciate your support and cooperation in this matter.
Please note: After receiving your order, it will take approximately 1-2 business days for processing. Your credit card WILL NOT be charged until it is ready to be shipped. FREE Ground Shipping on all orders over $2000. 2nd Day and Next Day Air are available for an additional fee. Selecting this optional shipping will not expedite processing time, just shipping time. All shipments are sent with UPS Signature Required. Please ensure someone is available to receive package.
No international orders. Export of the commodities described herein is strictly prohibited without a valid export license issued by the U.S. Department of State Office of Defense Trade Controls prescribed in the International Traffic in Arms Regulation (ITAR), Title 22, Code of Federal Regulations, Parts 120-130.
Returns: A 10% restocking fee will be applied to all orders to cover the cost of inspection, packaging, and restocking. A Return Authorization (RA) number from Night Vision Devices must be granted before any product(s) can be returned.
Related Products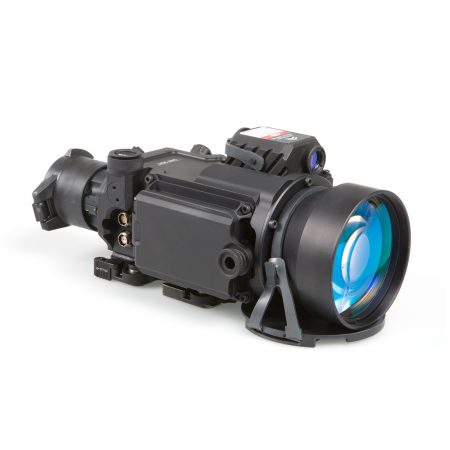 Standard accessories included with each S100U SWIR Weapon Sight: Remote Control, Lens Caps, Operator's Manual, Carry Pouch, Coupling Light Shroud and Cables for Video Output and External Power Supply.
Call for price